Weapons

The Hero with the ⚡10 Hypergun in 'Cluck of the Dark Side'.

Usage

Attacking enemies

First Appearance

Chicken Invaders (DOS Version)
Weapons
are the main method of disposing enemies in the
Chicken Invaders franchise
. They were first introduced in 
Chicken Invaders
(DOS Version). Each weapon is unique. They have unlimited ammo, but they also generate
heat
.
Obtaining
Weapons can be switched through collecting Gifts. They can give different weapons depending on their color. Certain weapons are not available from the beginning, and as such have to be unlocked. Those weapons are: Plasma Rifle, Vulcan Chaingun, and Utensil Poker. The Utensil Poker was always an unlockable, while the other two weapons are unlockables since Ultimate Omelette. Some weapons will also not appear ingame until a certain chapter is reached, which is the case if you don't have the Weapons Rush unlockable on.
List of Weapons
There are thirteen different weapons available in the latest episode.
Name
Base Damage (⚡10)
Debut
Description


Ion Blaster

1000

Chicken Invaders (DOS Version)
(first appearance)
The Next Wave
(current version)

The Ion Blaster is a good all-purpose weapon with a fast re-fire rate and accelerating projectiles. Its main advantage is that it spreads out at higher power levels, allowing your ship to cover a wider area. It's difficult to deliver concentrated firepower with it unless you get really close to the enemy.


Neutron Gun

2100

The Next Wave
(first appearance)
Revenge of the Yolk
(current version)

The Neutron Gun can deliver more damage than other weapons, especially at high power levels. Primarily forward-facing, its main disadvantages are the average projectile speed and a slow re-fire rate.


Laser Cannon

1800

The Next Wave
(first appearance)
Revenge of the Yolk
(current version)

The Laser Cannon fires lightning-fast bolts of focused energy, instantly barbecuing any chickens that cross its path. Fire it manually make up for its reduced power. Range is sufficiently long for most purposes, but not unlimited. It can only shoot directly forward, although there is some spread available in higher power levels.


Vulcan Chaingun

480 (CI4/CI5)
500 (CI3)

Revenge of the Yolk

The Vulcan Chaingun fires multiple ultra-fast metal shards at an extremely fast rate. Unfortunately, each shard does minimal damage, but concentrated fire will quickly tear through anything in its path. Watch out for overheating, as manual fire won't help you much here.


Lightning Fryer

990

Revenge of the Yolk

An experimental weapon from the Deep Fried Chicken labs, the Lightning Fryer can deliver 1.21 gigawatts of pure energy directly to the nearest unfortunate foe. In higher power levels, multiple targets can be tracked independently. Throw auto-locking and a slow heating rate in the mix, and you've got yourself a "sure-fire" (ahem) hit.


Plasma Rifle

1400

Revenge of the Yolk

The Plasma Rifle is the Lightning Fryer's military-issue brother. It can deliver enormous amounts of damage to a single target at a time, and with an even wider range of auto-lock. Unfortunately, this weapon also generates heat rapidly, and frugal use is necessary in order to avoid overheating.


Utensil Poker

2250

Revenge of the Yolk

The Utensil Poker is a highly experimental weapon, designed specifically for use against the chicken invaders. Just try it and see!


Boron Railgun

600

Ultimate Omelette

The Boron Railgun accelerates superheated metalloid chunks faster than anything else. The re-fire rate actually speeds up with increasing power levels to provide additional damage. Projectiles travel extremely fast, but their spread is limited to strictly forward-only.


Photon Swarm

400

Ultimate Omelette

The Photon Swarm fires extremely high-intensity interweaving swarms of photons capable of covering a broad area. When supercharged, swarms glow red and provide a massive boost to firepower. This weapon is hard to control and quite underpowered at low firepower. To increase damage in these cases, fire the weapon manually.


Positron Stream

600

Ultimate Omelette

The Positron Stream, when non-powered, it provides the most damage than any other weapon. It's quickly superseded by other weapons as power increases, however. It locks onto the nearest enemy, but can only track one target at a time. Its focused power generates a lot of heat, so make sure you fire it in short bursts for maximum efficiency.


Hypergun

1050

Cluck of the Dark Side

The Hypergun is purely energy-based. It is capable of dynamically rotating its output vector to cover a wider area than the Boron Railgun, while still packing quite a punch. When output vectors converge, woe any poultry that will be caught in the crossfire.


Riddler

560

Cluck of the Dark Side

The Riddler accelerates superheated metal shrapnel to near light speed. At low power levels, damage is diffused over a wide area, but becomes more focused as power level increases. As a bonus, this weapon generates very little heat, allowing you to fire it in long bursts.


Corn Shotgun

2400

Cluck of the Dark Side

The Corn Shotgun's power is devastating but reload rate is quite low, which can be substantially improved by firing manually. Individual corn pellets are capable of inflicting a lot of damage, but power distribution is somewhat uneven.

Moron Railgun

???

Universe

This is the "starter" edition of the Boron Railgun and it shows. Reduced damage and a hard power limiter make it only suitable for the complete newcomer. It's recommended to stop using this weapon once you find something better.
Legacy Weapons
These are older versions of the current weapons, which differ substantially in their design or power levels.
| Name | Base Damage (⚡9) | Appeared in | Description |
| --- | --- | --- | --- |
| Ion Blaster (CI1) | 7 (700) | Chicken Invaders | This is the version of the Ion Blaster present in the first Chicken Invaders. Its design is different, as the individual bullets are green, and it has only eight power levels (one in the DOS version). Compared to the current version of the weapon, it has a much better maximum firerate (20/s) and it can never overheat. |
| Ion Blaster (Flash) | 900 | (Flash Versions) | This is the version of the Ion Blaster present in the flash versions of The Next Wave and Revenge of the Yolk. The individual bullets are yellow, and it has nine power levels. It's special in that you can't get more firepower past the last power level. It's the only version of the Ion Blaster to have a triple bullet projectile. Compared to the current version of the weapon, it has a much better maximum firerate (20/s) and it can never overheat. |
| Neutron Gun (CI2) | 1374 | The Next Wave | This is the version of the Neutron Gun present in The Next Wave. The bullet design is much different, as are the ten power levels it has. Its firerate is also much worse. However, compared to the newer version of the weapon, it deals more damage and it can't overheat. |
| Laser Cannon (CI2) | 800 | The Next Wave | This is the version of the Laser Cannon present in The Next Wave. The power levels are much weaker compared to its version from Revenge of the Yolk and later games, and it has only ten power levels. However, compared to the newer version of the weapon, it has a better firerate and it can never overheat. |
V • E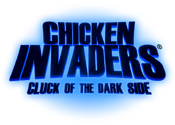 Items
Powerups
Ion Blaster Gift • Neutron Gun Gift • Laser Cannon Gift • Vulcan Chaingun Gift • Lightning Fryer Gift • Plasma Rifle Gift • Utensil Poker Gift • Boron Railgun Gift • Photon Swarm Gift • Positron Stream Gift • Hypergun Gift • Riddler Gift • Corn Shotgun Gift • Atomic Powerup
Food
Drumstick • Twin Legs • Roast • Single Burger • Double Burger • Triple Burger • Quad Burger • Popcorn
Other
Coin • Key • Pollen • Artifacts • Humanity's Greatest Fan
V • E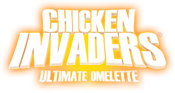 Items
Powerups
Ion Blaster Gift • Neutron Gun Gift • Laser Cannon Gift • Vulcan Chaingun Gift • Lightning Fryer Gift • Plasma Rifle Gift • Utensil Poker Gift • Boron Railgun Gift • Photon Swarm Gift • Positron Stream Gift • Atomic Powerup
Food
Drumstick • Twin Legs • Roast • Single Burger • Double Burger • Triple Burger • Quad Burger
Other
Coin • Key
V • E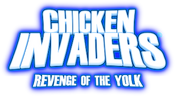 Characters
Playable
The Hero
NPCs
Narrator
Items
Powerups
Ion Blaster Gift • Neutron Gun Gift • Laser Cannon Gift • Vulcan Chaingun Gift • Lightning Fryer Gift • Plasma Rifle Gift • Utensil Poker Gift • Atomic Powerup
Food
Drumstick • Roast • Single Burger • Double Burger • Triple Burger • Quad Burger
Other
Coin
V • E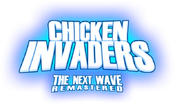 Areas
Solar System
Pluto • Neptune • Uranus • Saturn • Jupiter • Asteroid Belt • Mars • Earth • Venus • Mercury • The Sun • Space Burger Store
V • E

Characters
Playable
The Hero
NPCs
Space Burger Clerk • Narrator