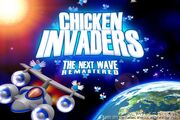 so i wanted to made a rap Battle song so here is:
Intro:CHICKEN INVADERS RAP BATTLE HERo VS CHICKENS
Hero:these chickens are stupid i can beat them in ssecond Hero:i will use their roast  chickens:we will rule milky way chickens :we will rule solar system hero:i will use powers and neutron gunhero:i will kill your mother hen ship chickens: big chickens will destroy you*big chicken explodes*hero:that was easy *hero meets yolk star* hero:oh;D: Chickens:you cant beat our yolk star ,we wll rule solar system chickens: anti-roast *hero wins* chickens: WHAAAAAAAT? *hensolo comes* Hero: hen solo chickens ahead chickens:NOOOOOOOOOOOOO YOU WIN, SPACE SHIP *THE END*​ So i need some remixes from CI5 AND 3 SONGS
Ad blocker interference detected!
Wikia is a free-to-use site that makes money from advertising. We have a modified experience for viewers using ad blockers

Wikia is not accessible if you've made further modifications. Remove the custom ad blocker rule(s) and the page will load as expected.