Welcome to Chicken Invaders Theory!
In one of the cutscenes of Chicken Invaders 3, you can see the hero pass by a USS-Enterprise-esque ship...
BUT, This might of been a teaser for a new boss... 
Or it could be some easter egg... OR it was probably rebuilt by the Chickens!
THE CHICKENS I TELL YOU... THE CHICKEEEEEEEEEENS!
(Ok I'll stop)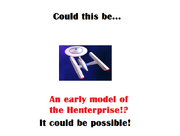 Ad blocker interference detected!
Wikia is a free-to-use site that makes money from advertising. We have a modified experience for viewers using ad blockers

Wikia is not accessible if you've made further modifications. Remove the custom ad blocker rule(s) and the page will load as expected.