UveDX

UveDX logo from the first Chicken Invaders.

Developer(s)

InterAction Studios

Initial release

Around 1995

Type

Game engine/graphics API
Ultra VGA Engine 
is a graphics library that's been powering for all of
InterAction studios
' games except the oldest ones.
History
(Not so Ultra) VGA Engine for Pascal
The history of UVE traces back to the mid-90's when the first iteration of it was made. It was called the VGA Engine, which was made for the Pascal and worked only on the DOS operating system. This engine was inspired by another one from the DOS days, called ANIVGA. Other versions of this iteration followed suit, with VGA Engine 2 and VGA Engine 3. It's unknown which games were built on this version of the engine, although some of the earlier games they made like the original Adventures of Mrs. Piggly, Jasteroids, Knights and Lords, Jasna, Doom Kombat, Mach 9.9, and the first Cherrymania might've been made on these.
UVE32
The next major upgrade came in form of Ultra VGA Engine 32-bit in 1996. As for its name, the "Ultra" was added in so that it's libraries are distinguished from its precursors, the VGA Engines. It was still in Pascal and for DOS, but now it was written purely from scratch, and was not based on any existing library. It was able to support 32 bit operations, even though they weren't utilized in the games made out of it because of the compiler. The most important thing about this iteration of UVE is that it was the only one to be released publicly, with a link here. It was released in two versions - the shareware one and the registered one. The shareware one had some of its features stripped, and was only usable for 21 days before you had to buy the registered version. 
Games confirmed to have been made using UVE32 are Radar Wars Arcade, Cherrymania 2, Cobra, Cobra 2, Battle Tank, F16, Tom Risk and Blogbash (?).
There also has been a demo program showing off the capabilities of this iteration. You can see the footage of it here.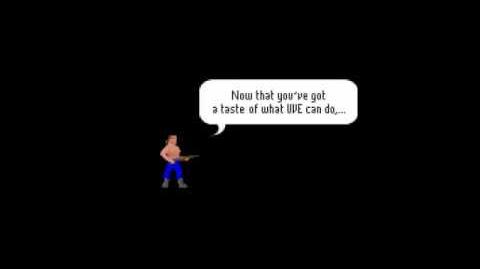 UVE++
This iteration written around 1997, Ultra VGA Engine++ was written in C++ instead, but it still was only for DOS. It was both conceptually and technically superior, however it wasn't used for much games, aside from a certain interesting thing - an early "quick & dirty" version of Chicken Invaders 1. Since then, the game was either remade or finished on UVE's next iteration.
UveDX
Being introduced around 1999, Ultra VGA Engine DX might be the most known of the earlier iterations to us, since it has been used at release for the first two Chicken Invaders games, the first Island Wars, and the ill-fated Piggly 2. It was the first iteration to move from DOS to Windows, and the first one to work on DirectX (starting with 6.0 and 6.1, later on supported 7.0). Other than that, it was fundamentally the same thing as the previous iterations but with DirectX's advantages.
UveDX8
Debuting with the release of Island Wars 2 in late 2004, this version was a major upgrade from UveDX, being a complete rewrite for Visual Studio and DirectX 8.0. It also used the "looks-like-2d-but-it's-infact-3d" technique, as in everything was rendered as 3D, but it looked like 2D. Games made using this engine at release include Island Wars 2, Loco, Smileyville, Piggly and Chicken Invaders: Revenge of the Yolk. This iteration was also the first one to have been ported over to many other platforms, including Android, iOS, Linux, Mac, U3 devices and Windows Phones.
UveXX
Very little is known about this mysterious iteration, having surfaced in 2009, and being used at release for Christmas Eve Crisis, Chicken Invaders: Ultimate Omelette, and the remastered edition of Chicken Invaders: The Next Wave.
UveUDX
This iteration of UVE was substantially upgraded, using a probably newer version of DirectX like 8.1 or upgrading some things. It was introduced in 2013 and so far it has been only used at release for Chicken Invaders: Cluck of the Dark Side.
UveUDX9
Introduced in 2015, not much is known about this most recent iteration of UVE other than that it must have been upgraded to use DirectX 9.0c. It hasn't been used for any game at release yet, but it might be used for Chicken Invaders 6 unless another iteration surfaces.
Technical information
Ultra VGA Engine, since its earliest iteration, is a graphical API and game engine that utilizes the SVGA graphics mode. It utilized various engines including Turbo Pascal, Visual Studio, and various versions of DirectX. The newest iteration uses DirectX 9.0c.
Particle Flux Technology
Particle Flux Technology is a sprite-based graphics API, having been first used for UVE32. From what we know, it was used in first Chicken Invaders, Chicken Invaders: The Next Wave and the first Island Wars. It was used for the sprites and animations of explosions and bullets.
Arcade Engine
Arcade Engine is an add-on for UVE32 (or UveDX, we don't know exactly) which can do special effects like multi-sprites, enemy damage feedback and maximum frame rate under all conditions to recreate the arcade experience.
Nature
Nature might be a graphics API used for creating realistic looking plants like grass. It has been used in many games, like Island Wars 2, and probably Piggly and Chicken Invaders: Cluck of the Dark Side.
Trivia
Each game made through UVE has some sort of a Debug Mode.
Ad blocker interference detected!
Wikia is a free-to-use site that makes money from advertising. We have a modified experience for viewers using ad blockers

Wikia is not accessible if you've made further modifications. Remove the custom ad blocker rule(s) and the page will load as expected.