Positron Stream

Projectile

Shape
Laser
Object
Beam
Color
Purple

Present

Image
Color
Ribbon
Fuchsia
Pink

Information

Point
10,000
Overheat
6
Path
Curly
Speed
Instant
Fire Rate
Rapid
Acceleration

✘

Auto-targeted

✔

Unlockable

CI 5
CI 4
CI 3

✘




✘




✘




Damage

CI 5

458.33

750

375

250

CI 4
437.5
750
375
187.5

Availability

5


✔

4


✔

3


✘

2


✘

1


✘
This article is about the Positron Stream. For about the weapon with the same colors, see here.
The Positron Stream[1] is a purple beam-like weapon in Ultimate Omelette and also in Cluck of the Dark Side. It's a "homing" weapon, nearly similarly to Lightning Fryer.

This weapon is strong enough to kill chickens at a multiple rate, however like Lightning Fryer and Plasma Rifle, holding the spacebar or left mouse button, but it overheats really fast.
Strategy
Pros
Deals continuous amount of damage, can destroy barriers in seconds.
A good pick for players that have low firepower.
Cons
Quickly overheats.
Hard to use against a large group of objects, like feathers or asteroids.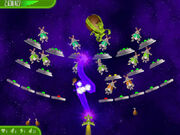 Trivia
References
↑

The name Positron is taken from the name of antiparticle which is counterpart of electron.
Ad blocker interference detected!
Wikia is a free-to-use site that makes money from advertising. We have a modified experience for viewers using ad blockers

Wikia is not accessible if you've made further modifications. Remove the custom ad blocker rule(s) and the page will load as expected.