Plasma Rifle

Projectile

Shape
Laser
Object
Plasma current
Color
Purple

Present

Image
Color
Ribbon
Purple
Dark Purple

Information

Point
6,000
Overheat
4
Path
Curly
Speed
Instant
Fire Rate
Rapid
Acceleration

✘

Auto-targeted

✔

Unlockable

CI 5
CI 4
CI 3

✔


75

✔


75

✘




Damage

CI 5

N/A

1400

700

466.67

CI 4
N/A
1400
700
350
CI 3
N/A
1400
700
350

Availability

5


✔

4


✔

3


✔

2


✘

1


✘
The Plasma Riffle is a weapon in Revenge of the Yolk, Ultimate Omelette and Cluck of the Dark Side.
In Ultimate Omelette and Cluck of the Dark Side, it is unlockable with Keys, costing 75 in both games.
Pros & Cons
Pros
Deals a boatload of damage, even at Firepower 5, can kill a Chickenaut in seconds.
Manual firing can kill chickens quickly, but still possible to overheat.
May have good accuracy if the firepower is high.
Cons
Can overheat in less than 5 seconds if fired continuously.
Deals less damage to the Henterprise.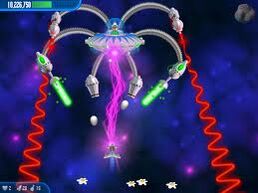 Trivia
The Plasma Riffle has a new look in UO, it looks like the Utensil Poker, except in Dark-Purple hue.
Sometimes the Plasma Rifle goes in the wrong way, like the Positron Stream.
This is the weapon that can overheat really quick.
In CI5, Firepower 20 can deal 533 damage per click. (Superstar Hero)
Ad blocker interference detected!
Wikia is a free-to-use site that makes money from advertising. We have a modified experience for viewers using ad blockers

Wikia is not accessible if you've made further modifications. Remove the custom ad blocker rule(s) and the page will load as expected.