Laser Cannon

Projectile

Object
Laser
Color
Orange

Present

Image
Color
Ribbon
Orange
Tangerine

Information

Point
3000
Overheat
7
Path
Straight
Speed
Instant
Fire Rate
Slow
Acceleration

✘

Auto-targeted

✘

Unlockable

CI 5
CI 4
CI 3

✘




✘




✘




Damage

CI 5

1100

1800

900

600

CI 4
1050
1800
900
450
CI 3
1050
1800
900
450
CI 2
540
800
400
N/A

Availability

5


✔

4


✔

3


✔

2


✔

1


✘
The Laser Cannon is a weapon that made debut in The Next Wave. It fires lasers that hit enemies instantenously. It's can only fire straightforward with slight spread. To fire this weapon, pick the Orange Present that drops from enemies. This page describes the version seen in Revenge of the Yolk onwards.
Strategy
Revenge of the Yolk
This weapon is a safe pick due to it's infinite and instant linear range and it's strong overall, you can still destroy enemies one by one fast with good aim, you can also attack bosses with ease due to it's range and it almost always safely hits non-moving bosses.
Ultimate Omelette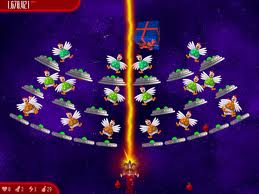 It's similar to the previous game, still a good pick, linear instant range but not infinite when zooming out in certain levels, making this weapon very limited and unsafe in such cases, for the rest, it's still good and it destroys enemies in the same fashion as in the previous games. Also, the gift needed to obtain this weapon is orange-colored instead of yellow (which is the color for Boron Railgun instead).
Pros
Instant-hit rate with screen-wide linear range.
Strong and focused damage.
Destroys enemies one by one.
Safe pick against most bosses.
Fast fire rate when manually firing it.
Cons
The range becomes limited when zooming out.
Not recommended for asteroid waves and those with lots of enemies.
Overheats quickly.
Trivia