Hypergun

Projectile

Color
Sky Blue

Present

Image
Color
Ribbon
Black
Cyan

Information

Point
11,000
Overheat
6.5
Path
Straight
Speed
Fast
Fire Rate
Rapid
Acceleration

✘

Auto-targeted

✘

Unlockable

CI 5
CI 4
CI 3

✘




✘




✘




Damage

CI 5

641.67

1050

525

350

Availability

5


✔

4


✘

3


✘

2


✘

1


✘
The Hypergun is a powerful automatic weapon introduced in Cluck of the Dark Side. It is a powerful automatic weapon good for clearing stacks/lines of chickens because of its relatively high damage and firing speed. It is the first weapon that you will use in CI5.
Strategy
It is a fast firing weapon, therefore has a fast overheat rate (Excluding the Riddler). Burst firing this weapon is a good tactic to prevent overheating quickly. This weapon is also capable of rotating it's output vector (change shot directions) making it a nice alternative for the Boron Railgun or Vulcan Chaingun.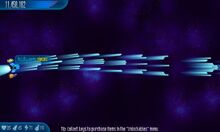 Pros
High damage.
Fast firing rate.
Projectiles spread making it useful for clearing small groups.
Cons
Can overheat in 5 seconds.
Slow firing rate when you have low firepower.
Somewhat weak against some bosses.
Less danage dealt to Henterprise.
Trivia
At Firepower 20, it fires 7 shots which deals 50 damage each, totalling 350 damage (Superstar Hero).
The Henterprise resists hits against this weapon, taking only 42 damage each shot at Max Power on Superstar Hero.
The Hypergun is actually a reference to the Star Fox Hyper Laser.