The Henperor's Apprentice is one of the bosses in Chicken Invaders 5: Cluck of the Dark Side. It's a Darth Vader-esque chicken that appears in Wave 50.
The Apprentice's Powers
 *He spawns a big red circle that surrounds him, acting as a shield and a forcefield.
He shoots 5 spinning lasers in star shape and completes a 1/5 circular rotation.
His psychic attack changes your spaceship's direction. Facing completely up or down is drastic as the shield blocks you from ever attacking him.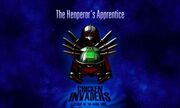 Ad blocker interference detected!
Wikia is a free-to-use site that makes money from advertising. We have a modified experience for viewers using ad blockers

Wikia is not accessible if you've made further modifications. Remove the custom ad blocker rule(s) and the page will load as expected.