Heart of Darkness

Heart of Darkness in 'Cluck of the Dark Side'.

Species

Heart?

Role

Boss in Cluck of the Dark Side

Homeplace

First Appearance
Heart of Darkness
is one of the bosses present in
Cluck of the Dark Side
. It's a mysterious being present deep within the underground caverns of
Gamma Chthon
, which guards the Source of Power.
Appearance
It's a huge red pumping heart.
Editions don't affect it.
Attacks
Image
Description

Pollen Throw


The Heart of Darkness throws six purple pollen at you.

Crystal Sword


The Heart of Darkness summons a huge Crystal that mostly covers it from the bottom that goes to the bottom of the screen. A dotted line appears before this happens.

Crystal Shield


The Heart of Darkness summons five Crystals to protect itself. They retract after a while.
Encounters
It's encountered only once at the end of the Gamma Chthon: Artifact Recovery Mission chapter. There, it has 160000 health. After dying, it gives 120000 points and 12-15 Coins. Its pattern isn't very complicated. First, it arrives from the left side of the screen and uses Pollen Throw. After that, it uses Crystal Sword. It finishes its pattern with Crystal Shield. It will move to a different place between the attacks. A Satellite is summoned at the beginning and at the end of the fight. Gifts will also spawn when its health reaches 25%, 50%, 75%, and 100%. It is weak to the Positron Stream and it has no strenghts.
Strategy
Destroy the Crystals just enough so that you are able to attack the Heart of Darkness. Damaging them any more is a waste of your ammo.
V • E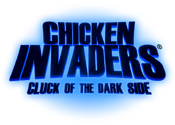 Items
Powerups
Ion Blaster Gift • Neutron Gun Gift • Laser Cannon Gift • Vulcan Chaingun Gift • Lightning Fryer Gift • Plasma Rifle Gift • Utensil Poker Gift • Boron Railgun Gift • Photon Swarm Gift • Positron Stream Gift • Hypergun Gift • Riddler Gift • Corn Shotgun Gift • Atomic Powerup
Food
Drumstick • Twin Legs • Roast • Single Burger • Double Burger • Triple Burger • Quad Burger • Popcorn
Other
Coin • Key • Pollen • Artifacts • Humanity's Greatest Fan