Epsilon Thalassus

Epsilon Thalassus as seen in 'Cluck of the Dark Side'.

Diameter

~12000-15000 kilometers

Type

Terrestial planet

Inhabitants

First Appearance
Epsilon Thalassus
is one of the planets the
Hero
visits in
Cluck of the Dark Side
. He has to descend down to Epsilon in order to retrieve the
Blade of Revolution
. The planet is located on a galactic arm close to the Norma Galactic Arm in the
Milky Way
.
You can watch a tour of the planet here.
Appearance
The planet's surface is mostly dominated by large oceans, as the Narrator says that 98% of it's surface is covered with water. That means the other 2% is land. Based off of the glow, and off of that liquid water can exist on it, the planet might have an atmosphere and temperatures similar to those seen on Earth. It also has a weather system, as clouds are visible.
Features
There are different kinds of aquatic life that populate Epsilon, such as giant Squids, Jellyfishes, and very likely other species too. Earth has similar aquatic life, which makes both planets very similar to each other.
Gallery
V • E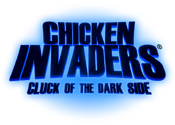 Items
Powerups
Ion Blaster Gift • Neutron Gun Gift • Laser Cannon Gift • Vulcan Chaingun Gift • Lightning Fryer Gift • Plasma Rifle Gift • Utensil Poker Gift • Boron Railgun Gift • Photon Swarm Gift • Positron Stream Gift • Hypergun Gift • Riddler Gift • Corn Shotgun Gift • Atomic Powerup
Food
Drumstick • Twin Legs • Roast • Single Burger • Double Burger • Triple Burger • Quad Burger • Popcorn
Other
Coin • Key • Pollen • Artifacts • Humanity's Greatest Fan