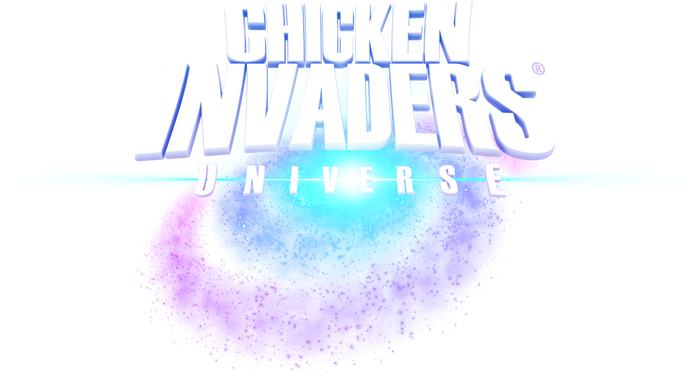 Chicken Invaders Universe is an upcoming MMO-like spin-off in the Chicken Invaders franchise. In this game, you'll join the ranks of the United Hero Force as a recruit fresh out of the Heroes Academy to fight against the evil Henpire. It's planned to start with limited Early Access somewhere in September. The version that will be made available will have minimal features.
Features
Two kinds of accounts:

Guest account (free-to-play, non-unique username, save data stored on local device, available from early access)
Member account (costs $5, can change username, can link installations together (e.g. end playing on PC and continue on Mobile), available after full release)

Beta just like Cluck of the Dark Side's Christmas Edition, Early Access, planned to start in September, Windows-only, with release on all platforms coming around or after December

Progress may be reset several times as it goes on, may not carry to the final release

In case it doesn't, early access players will be rewarded with extra Keys

Mobile versions may also include ads for guest accounts
Steam won't include Guest accounts
Won't be distributed on third-party sites like Big Fish Games, unlike earlier episodes
Play alone, or engage in multiplayer activities:

Form squadrons and explore together
Daily Challenges
Competing with friends

Explore a persistent galaxy and its diverse environments. Visitable areas include:

Astronomical objects:

>100 constellations

Known constellations are: Tyche, Hector, Tethys, Aceso, Epochus, Demonassa, Aura, Delas, Corus, Dius, Pothos, Telemachus, Deianeita, and Oxylus

>2000 star systems
>10000 planets

Certain planets will also have natural satellites
Planets and their satellites will show traces of their orbit

Landmarks:

Spaceship outlet - exchange or purchase spaceships

Only known one at the moment is the M-404 PI

Auto garage - customize them with items
Hero University - training courses, a Chicken bestiary and a library of spaceship specs
Space Burger, usually orbiting a planet

Galaxy exploration will use a different interface from the regular missions, first showing constellations, then star systems, then planets, and then their satellites
Missions in star systems to clear them from the invading Chicken forces, ranging in length between 10 and 100+ waves

Missions will be procedurally generated and will have several different types (chicken invasion, supernova, boss rush, food collection, key collection, etc.)
You may stitch together your favorite missions to form challenges for others to play

Every boss from the past episodes returns, and new ones will appear
Playing missions together (like earlier episodes, splitscreen style) won't be possible in the initial release, but it might be allowed later on
Procedurally generated waves, with around 100 templates to choose from
Spaceship customization involves changing the design of the spaceship, such as the used tail wing model, placement of the engine, etc. It also includes paintjobs, though no longer custom
Different ways of obtaining Keys:

Collecting those that fall out of enemies (like earlier episodes)
Buying them for an unknown price (available after full release)
Key-collecting missions
Increasing rate of appearance through installing specific items
Selling artifacts or other resources discovered

Multiple breeds of Chickens, known ones are the Cluck of the Dark Side Chickens, Ultimate Omelette Chickens, and Metal-suit Chickens
Updates after release including new customizations (starfields, paintjobs), spaceship models, new Weapons, new Powerups, new enemies, new missions, new unlockables and new music.
Internet connection always required, with updates gradually decreasing the usage
No Editions, could still have holiday themed items
Early Access will use lots of Cluck of the Dark Side assets, eventually phasing them out
Current development stage
It's approaching the alpha stage. InterAction studios are working on the game itself, coding and making bosses, enemies, weapons, multiplayer aspects, and other stuff.
The remaining Editions for the latest Chicken Invaders episode (Easter and Thanksgiving) will not arrive until after this game gets released, if at all.
Forums
You can visit the Chicken Invaders Universe forum to share your suggestions or report stuff.
In case your idea does make it into the game (or something inspired by it), you will get certain rewards in-game, including a contributor reward, your name in the credits, and lots of Keys.
Trivia
At one point of its developement, it was planned to be Episode 6, but then it was radically reworked so much that it became a spin-off. This however doesn't prohibit the main series from coming back later on.
This game will be the first one to break the usual edition release schedule, with Cluck of the Dark Side's Easter and Thanksgiving editions likely coming after Universe's release, if at all.